Traveller Eviction
We can remove unwanted trespassers efficiently and effectively in most cases without any necessary solicitor instructions or court orders. . Halsburys Law of England; volume 45 (Fourth Edition), the following statement . "If a trespasser peacefully enters or is on land, the person who is entitled to possession may result him to leave, and if he refuses to leave, remove him from the land using no more force than is reasonably necessary" . Private landlords have more choice when removing trespassers by using the ancient remedy of Common Law. They can still go down the Court route of obtaining a possession order. This can then be transferred to the High Court to secure a writ of possession which is enforced by High Court Enforcement Officer. Where a trespasser peaceably enters on to private land, the landlord or landlord agent must ask them to leave. Whereby thy chose to refuse, the landlord can then remove the trespasser's "using no more force than what is reasonably necessary".
To instruct us to evict trespassers without the need for a court order - CLICK HERE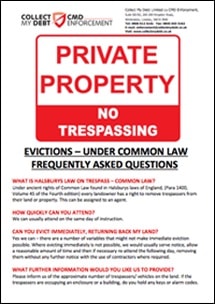 Click the above icon to read our Traveller Eviction FAQ PDF
---
Certificated Enforcement Agents
Though evictions can be carried out by the landlords themselves, the vast majority of landlords do instruct Certified Enforcement Agents to remove trespassers. The main reason for this is that agents have in-depth knowledge of the right procedure to do so to avoid breaking the law. Agents also have vast health and safety expertise and can carry out risk assessments before trespassers are removed. They can then implement the necessary man power and resources to carry out the eviction.
---
Police Involvement
We may inform the police if we deem it necessary to do so when carrying out a physical eviction. The police are informed when CMD feel it is necessary that might be when serving the notice of eviction or when a physical eviction is taking place. The Department for communities and Local Government (February 2004) advises police presence be called upon to prevent a breach of the peace. The police will also assess the situation and if their findings are that the eviction is not appropriate, then it should always be delayed until an agreed time. The police may decide the eviction needs to be delayed until a suitable time. By ignoring the advice of the police, the landlord may risk property being damaged or persons becoming injured during the eviction.
---
At CMD, we offer two processes for our clients in order to serve and evict:
When trespassers have gained access onto land, they are "requested to leave before forceful action is taken against them. Under this situation, we serve the request in the form of a 24-hour self-help notice to vacate the land.

Or we can serve a 2-4hour self-help eviction notice and remain on site overseeing the packing up of the site and the vacation of the land. Clearing traveller/ illegal encampments within a 2-4hour window is not always possible and landlords should be aware that Certificated Enforcement Agents along with tow trucks could be on site for 8,10 or 12 hours sometimes to complete the eviction task ahead of them.
Costs vary between the two processes mentioned in brief above.
---
The advantages of Common Law 
The ancient remedy of Common Law gives private landlords more power when it comes to removing trespassers. It is possible to obtain a possession order via the courts, which can be transferred to the High Court, resulting in a writ of possession being secured and enforced by a High Court Enforcement Officer. Landlords are permitted to remove trespassers "using no more force than what is reasonably necessary" when they refuse to leave.
---

Two processes available 
Two processes are offered to clients. If trespassers have gained access to land, we request that they leave before forceful action is taken against them. The request is made in the form of a 24-hour notice. Alternatively, we can serve the 2-4 hour self-help eviction notice and remain on the site to witness the vacation of the land and packing up of equipment. It is not always possible to clear land of travellers and illegal encampments in a 2-4 hour period, which means our Certified Enforcement Agents may need to remain on your site for up to 12 hours so the task can be completed.
---
Avoiding court orders
Though it is possible to apply for a court order, this process can take up to 21 days and can result in costs of up to £5,500. We act as swiftly as possible to clear your land of trespassers, with many leaving as soon as the notice is served on them. In this case, your only costs would be for the attendance and the serving of the notice. If we do need to remain on site for longer and require the use of removal vehicles, enforcement costs will be higher yet still less than the expense of obtaining a Court Order. Common Law evictions are much more affordable and less time-consuming.
---
Real-time updates
After we have arrived at your site, we will compile a full detailed report, which will include as much information about the situation as possible, including the number of trespassers and vehicles and their behaviour. We will e-mail the report to you and provide you with updates in real-time. Once the trespassers have vacated the site, it's advisable to secure the site as much as possible to prevent the situation reoccurring. Some clients choose to invest in 24-hour security, add or strengthen gates to entrances, add height restriction barriers and install concrete bollards around the site.
---
Calm under pressure
We have helped a wide range of clients to clear their site of trespassers and prevent them from returning again. We are able to remain calm even when met with hostility and have an excellent track record when it comes to same-day clearances, allowing our clients to avoid obtaining and waiting for expensive possession orders.
---
Why choose Collect My Debt?
At Collect My Debt, we're proud to be one of the most trusted services around when it comes to traveller and squatter eviction. We are a national company that covers England and Wales and have exceptional knowledge of the laws surrounding evicting travellers and squatters. You can count on us to return what is rightfully yours to you and have recovered hundreds of million pounds for our clients. Our Certified Enforcement Agents have an average 15 years of experience and are passionate about delivering the peace of mind that you're seeking.
To find out more about evicting travellers from private land with Collect My Debt, call 0800 612 5161 or send an e-mail to info@collectmydebt.co.uk.
Outside of the above a court order is possible but can take up to 21 days and may be considerably expensive, usually between £4,000-5,500.00 in solicitor, court and enforcement costs.
Having trespassers taking up residency on your private land is not only worrying, but can also cause significant stress to the landowner. At CMD, we will act swiftly, usually on the same day as receiving your instruction to proceed in evicting them. Some trespassers will leave when notice is served on them, therefore the only costs at that stage would be the cost attendance together with serving the eviction notice.
When enforcement agents are faced with being on site for several hours and or removal vehicles are necessary to proceed with the eviction usually after the issuing of the 24 hours' eviction notice, enforcement costs will be high but are still less than the cost of obtaining a Court order. The eviction under Common Law is less time consuming, as well as minimalizing the risk of damage to property and business when measured against the length of time to obtain a Court order.
Once our enforcement agent has attended the site, a full detailed report will be compiled. Within the report will be as much information as possible. It will include the amount of caravans/ vehicles occupying the site, number of trespassers as well as their behaviour and attitude towards nearby tenants and enforcement agent. Our experienced enforcement agents will determine what extra assistance will be required as well as how the agents time was utilised whilst on site. The report will then be emailed to the client.
Please be aware that no two evictions are ever the same. The safety of our agents is our top priority as well as the close proximity of the general public. Our experience of evicting trespassers has often identified their violent ad unpredictability behaviour. We would advise to any landlord on the land being vacated that they secure the site as soon as possible to prevent them returning.
Consider the list below
• Having 24-hour security in place
• Installing height restriction barriers to prevent caravans having access
• Secure gates to any entrance
• Concrete bollards around the site
What Our Customers Are Saying
Don't just take it from us, let our customers do the talking!
Dear Enforcement Team,
We would like to thank you very much for your outstanding work in retrieving our land back from travellers in what could only be described as a difficult situation.
We understand that your enforcement agents were met with hostility, and the travellers had also locked themselves inside the derelict site, by securing the gates with their own locks.
Obtaining peaceful re-occupation of the vacant site has now allowed us to dispose of the site for redevelopment.
I have no trouble in recommending your company to others in similar situations.
Thank you very much.
Dear Sirs,
Thank you for your call earlier today, regarding the successful eviction of the Travellers from our retail loading / service area within the Motorway Service Area.
Your company provided us with regular on the day communication, via hourly real time updates. I found you to be extremely helpful and professional at all times.
Should the need arise in the future, we will definitely use your company again, and be pleased to recommend Collect My Debt Limited / CMD Enforcement to anyone.
Kind regards,
Dear Sirs,
We would like to thank Collect My Debt Limited for the prompt and professional service you provided in evicting travellers from our offices under Common Law.
We were extremely delighted with the news that the travellers vacated on the same day you were instructed, and without the need to have to wait several days for a possession order issued through the Courts to be obtained.
We would definitely recommend Collect My Debt Limited to our business associates as we are very grateful for the support and service received.
Thank You.