Service Charge and Insurance Arrears Recovery
Our

F.A.S.T

acting teams are strategically located throughout England & Wales ensuring our rapid response is always achieved.
To instruct Collect My Debt today call your nearest:
–

F

ocussed
–

A

rea
–

S

upport
–

T

eam
FREE OF CHARGE

Pre-Legal Service Charge and Insurance Arrears Recovery*
No cost

to Landlord/Managing Agent* – Unlike Other Companies
Service Charge, Utility Bills and Insurance Arrears – All Collected
Ground Rent
7-Day Collection Service
Daily Client Updates
Free Company Credit Check
Same Day Remittance to Clients on Cleared Funds
*no charges to client when in possession of a live CRAR warrant.
Please complete instruction form below and return to:
For questions or advice call 0800 612 5161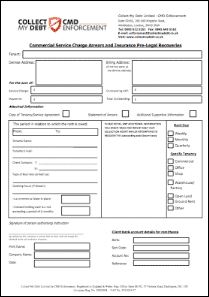 Make a Service Charge and Insurance Arrears Enquiry:
What Our Customers Are Saying
Don't just take it from us, let our customers do the talking!
CMD,
Thanks to you my outstanding service charges were collected quickly and professionally with absolutely zero cost to myself. Handing the debt to yourselves was the easiest and best decision I have ever made, all of my future enforcement instructions will be going to you. If you want a speedy service with fantastic results look no further!
Thanks guys!
To Collect My Debt/CMD Enforcement,
After months and months of us trying to collect our outstanding service charge arrears ourselves we finally gave up and handed over to the professionals. This turned out to be the best decision we have made, not only did it take the stress away from our staff but you cannot compare the ability to recover arrears in house to a specialised, professional enforcement company and that's exactly what Collect My Debt are. The best part is that the cost to us was nothing for collecting our service charge and they even ran service charge collections along side any CRAR instructions.
Thanks for all your help Collect My Debt, we won't ever be looking to carry out enforcement 'in house' anymore, its not worth it!
To whom it may concern,
I have spent many years using enforcement companies, at some point using most of them and always ended up being disappointed or being let down. I have been through the mill so to speak. I have found Collect My Debt to be the most efficient, professional and collected group of enforcement agents I have ever encountered. I have found them to be smart, punctual, knowledgeable and honest, which in the industry is a rare thing. They have taken care of a number of instructions for myself and are the only company in the industry who do not charge for recovering service charge, no charges to me at all. They also collect service charge at the same time as a rent instruction while only charging a percentage for the recovered commercial rent arrears.
Collect my debt have never let me down or messed me around, they are a straight talking, factual and hard working firm who always endeavour their best to collect on behalf of there customers/clients.
I am glad to recommend and confirm that personally I find collect my debt to be the best in the business.
HAVE A CONCERN OR A QUESTIONS WHICH IS NOT DETAILED ABOVE?
No matter how small, insignificant or trivial you think your question may be, please contact a knowledgeable and helpful member of our team.