Business to Business Debt Collection

FREE OF CHARGE
TO INSTRUCT THE COLLECTION OF YOUR BUSINESS TO BUSINESS DEBTS.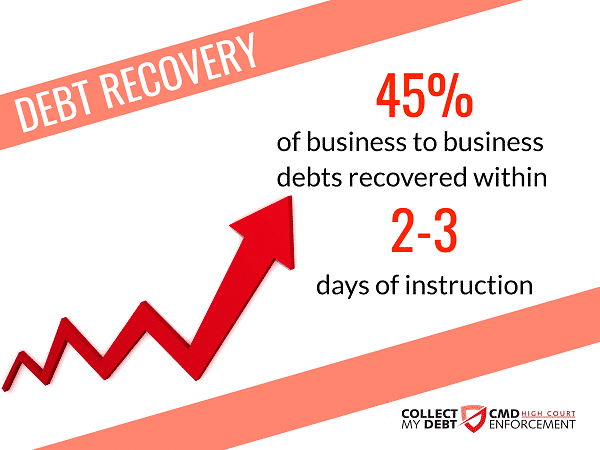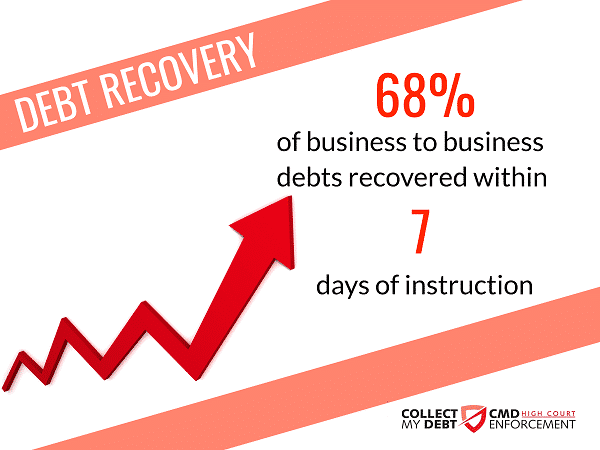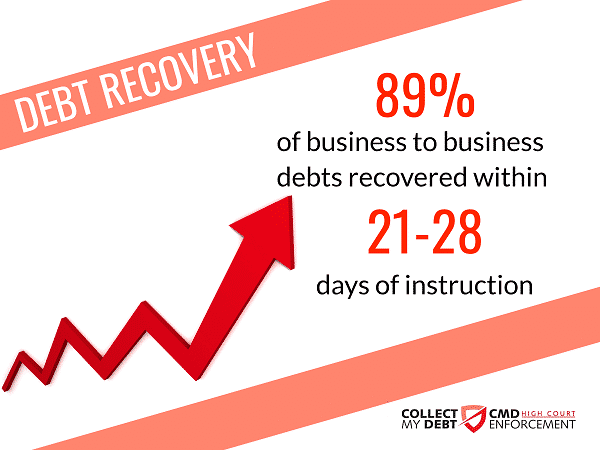 WHY USE COLLECT MY DEBT?
NO COMMISSION

ON DEBTS COLLECTED WITHIN 7 DAYS.

NO COST

FOR ATTENDANCE TO BUSINESS PREMISES (Business debts only).

NO COST

FOR MONITORING PAYMENT ARRANGEMENTS.

SAME DAY REMITTANCE TO CLIENTS.
Are You Owed Money? Request a Call Back
COLLECT MY DEBT OFFER A PAY ONLINE FACILITY, MEANING YOUR DEBTS CAN BE PAID
ANYTIME, ANYWHERE, BY ANYONE.
Our

F.A.S.T

acting teams are strategically located throughout England & Wales
ens

uring our rapid response is always achieved.
To instruct Collect My Debt today call your nearest: – 

F

ocussed –

A

rea –

S

upport –

T

eam
How do you recover my debt?
Collect My Debt Limited specialise in the collection of Business to Business debts we have the option of a Pre-Legal service or as we are authorised by the High Court we can escalate debts using the full strength of the law for enforcement.
How much does it cost to recover my debt?
As stated, to instruct CMD to collect your debts is free of charge, our fees are based on a commission percentage deduction of the total debt instructed to collect (see below for more information).
Why Use CMD?
All agents at Collect My Debt Limited are fully certificated and have complete knowledge and understanding of recovering debts along with many years of experience, recovering millions for our clients. Our sensitive, professional yet stern approach to each case is of paramount importance to recover the debt in full.
CMD have built a reputation to maintain high standards of service in dealing with any amount of debt owed for their client.
Our main focus is to collect the debt in full or put a sensible payment arrangement in place.
Where Do I Start?
If you have business arrears, it is best to act promptly and instruct CMD to commence the recovery process sooner rather than later, as a debt ages it becomes harder to collect.
CMD are simple to instruct, simply fill out our instruction form, return it to us via email (or click send if using the online form) and we will do the rest. Acting immediately will increase the overall success of the recovery of your outstanding rent.
Once instructed, CMD will send a letter to the tenant giving them 7 days to make payment.
Should payment fail to be made after 7 days of the letter and telephone calls a final 48 hour demand notice will be sent out to the offending party.
• Debt value £0.01-£5,000.00 = 15% + VAT deduction on all monies successfully recovered
• Debt value £5,000.01-£10,000.00 = 8% + VAT deduction on all monies successfully recovered
• Debt value £10,000.01 and above = 5% + VAT deduction on all monies successfully recovered
Please be aware that passing additional costs to debtors when collecting the debt is not possible until the matter has been to court.
Where CMD report no positive result after completing our letter, email and telephone stage, a doorstep recovery agent can be instructed to attend the premises and meet the debtor in person to discuss the debt face to face. The doorstep recovery agent attendance service is not free of charge or included in the recoverable commission percentage amounts detailed above (unless instructed to attend a business premises to collect a business debt). Costs for this type of attendance are dealt with on a case by case basis.
What Our Customers Are Saying
Don't just take it from us, let our customers do the talking!
To all at CMD,
Thank you for efficiently and successfully carrying out my CRAR instruction. I had little knowledge of the new legislation that is in place so was unsure how the CRAR process worked. Collect My Debt explained step by step the process and how much involvement and information they needed from myself. Luckily once I gave the instruction Collect My Debt took care of the rest, which greatly put my mind at ease. Collect My Debt collected over 75% of my outstanding rent on the same day of attendance, the rest was collected on an arrangement over the next 2 weeks or so. I had been chasing this debt for over 6 months and neither I or another enforcement company was able to do anything about it, I was told the debt was 'un-collectable' and to 'forfeit the lease' that's when I decided to try someone else. If you have old or new debts owed to you and you feel or are told that they are un-collectable give Collect My Debt a try, I couldn't recommend them enough.
Collect My Debt,
The service you provide is nothing short of fantastic! The success you have had for me over the last 6 months has been unbelievable, collecting some rent debt I thought was lost. I thought collecting under the new legislation (CRAR) was going to be a waste of time. How wrong was I! Give Collect My Debt a go, I wouldn't look anywhere else any more for any of my enforcement issues, they don't just do the job, they excel.
Dear Sirs,
It is a pleasure for me to be able to recommend your services.
The enforcements under CRAR you have carried out for us have been extremely effective, your high success rates have amazed me and my fellow directors along with your solutions to any further issues we have along the way, your advice and knowledge is second to none.
HAVE A CONCERN OR A QUESTION WHICH IS NOT DETAILED ABOVE?
No matter how small, insignificant or trivial you think your question may be, please contact a knowledgeable and helpful member of our team.